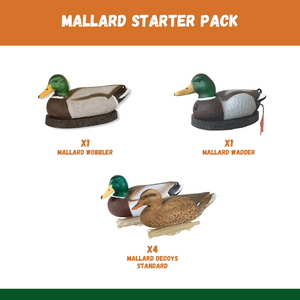 American made motion duck decoys

This Mallard Starter Pack includes 1 wobbler, 1 wadder, and 4 standard Mallard decoys.
This is a great starter kit for a new duck hunter and for professional hunters also! Designed as an ALL INCLUSIVE decoy bundle for hunters. This kit is a great introduction to motion decoys and includes all the decoys a hunter needs.
100% MADE IN THE USA!